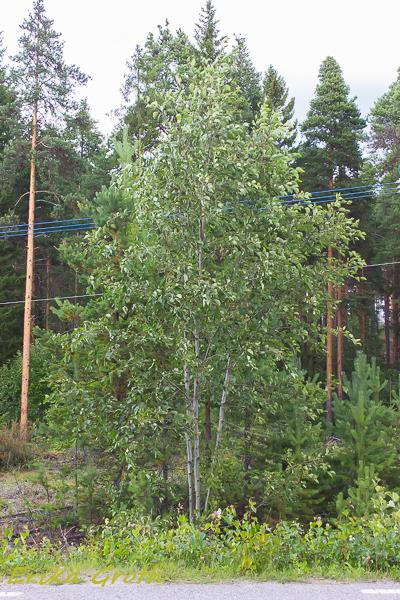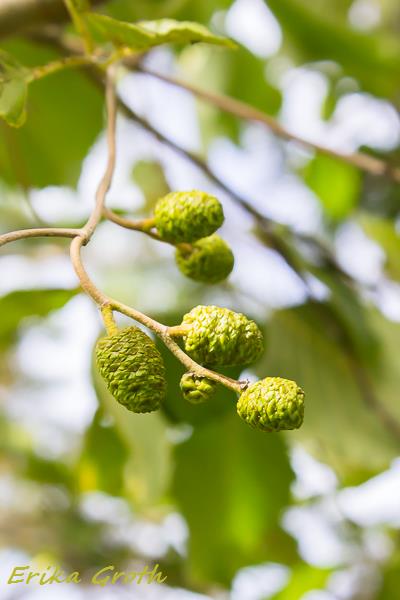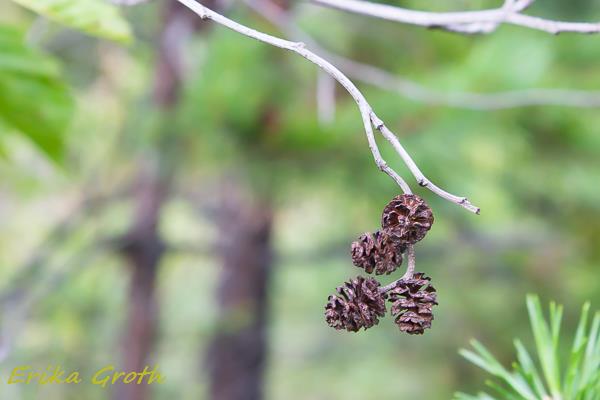 Det är sensommar. I bladvecken på gråalen sitter de vegetativa knopparna, redo att bilda nästa års skott. Några unga honblommor verkar ha torkat ihjäl och dött när trädgrenen de satt på dog. Andra har blivit befruktade och utvecklats till gröna alkottar. Även fjolårets numera bruna alkottar, som är öppna och har släppt ut sina frön, sitter också fortfarande kvar på trädet.
Om man tuggar albark ska man tydligen få fram en röd färg. Den verkar en gång i tiden ha haft religiös, eller åtminstone rituell, betydelse här i norra Skandinavien. Den användes exempelvis i en långdragen och komplicerad samisk björnritual där det ingick att kvinnorna i hemmet spottade röd tuggad albark på björnjägaren när han kom hem efter att ha fällt en björn. Det fanns även en gammal finsk björnritual som liknade den samiska, men jag har inte läst något om att den involverade albark. Alfärg användes även för att måla de berömda samiska trummorna.
******************************************************
IN ENGLISH:
It's late summer. Between the leaves and stem of the grey alder axillary buds are preparing to form next year's vegetative shoots. Some young female flowers seem to have dried up and died as the tree branch they were sitting on died. Others have been fertilized and have developed into green alder cones. Last year's now brown alder cones, that are open and have released their seeds, also still remain on the tree.
If you chew alder bark it is supposed to produce a red dye. Once upon a time that seems to have had a religious, or at least ritual, signifiance here in northern Scandinavia. It was for exemple used in a long and complicated Sami bear ritual which included the women at home spitting chewed alder bark on the bear hunter as he returned home after having killed a brown bear. There was also a similar old Finnish bear ritual, but I haven't read anything about alder bark being used in the Finnish version. Red alder dye was also used to paint the famous Sami ceremonial drums.
******************************************************
Fotona är tagna den 7 augusti 2022.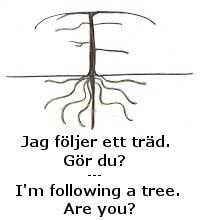 Kolla även in andra trädföljare på The Squirrelbasket (internationellt).