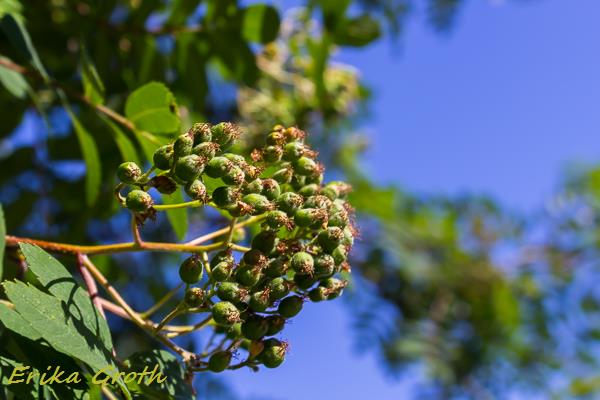 Nu i början av juli är rönnen full av omogna, gröna rönnbär. Alldeles intill rönnen grävde Pireva (Piteå Renhållning & Vatten) under juni ett stort hål i marken. Faktum är att de grävde flera stora hål i backen på olika platser här i kring. Jag fick aldrig reda på varför med det hade något med avloppet att göra. Eftersom jag fortfarande arbetar hemifrån nästan hela tiden har grävarbetet varit väldigt irriterande. Det första de gjorde var naturligtvis att av misstag gräva av bredbandskabeln. Det tog dem en hel dag att fixa. Några dagar senare stängde de utan förvarning av vattnet från lunch till kvällen. Jag har dessutom inte kunnat använda min egentliga parkeringsplats och den gigantiska grävmaskinen förde ett fruktansvärt oväsen dag ut och dag in i veckor. Dessutom har grävmaskinen kört sönder asfalten på gården. Nu verkar de i alla fall vara klara, eller möjligen ha gått på semester. Allihop, inklusive grävmaskinen, har i alla fall försvunnit.
******************************************************
IN ENGLISH:
Now in early July the rowan is full of unripe, green berries. Right next to the rowan Pireva (Piteå Waste Management & Water, a company owned by the municipality) dug a big hole in the ground during June. Actually they dug several big holes in the ground around here. I never found out exactly why but it had something to do with the sewer. Since I still work from home almost all the time the whole digging project has been rather annoying. Of course the first thing they did was to destroy the internet fiber cable, by accident. That took them a whole day to repair. A few days later they unexpectedly turned off the water from lunch time until the evening. I wasn't allowed to use the parking space I rent at home and the giant digger made a terrible noise every weekday for weeks. Also, the digger was so heavy that it destroyed the asphalt in the yard. Now they finally seem to be done, or possibly they have just left for their summer vacation. Either way, they are all gone now, including the digger.

******************************************************
Fotona är tagna den 4 juli 2021.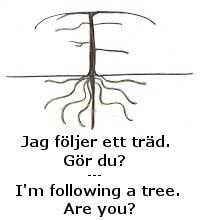 Kolla även in andra trädföljare på The Squirrelbasket (internationellt).