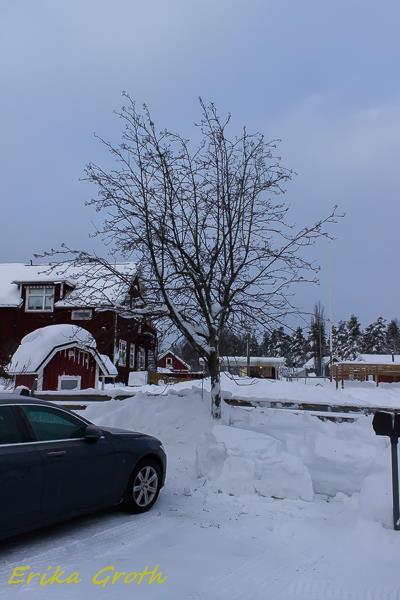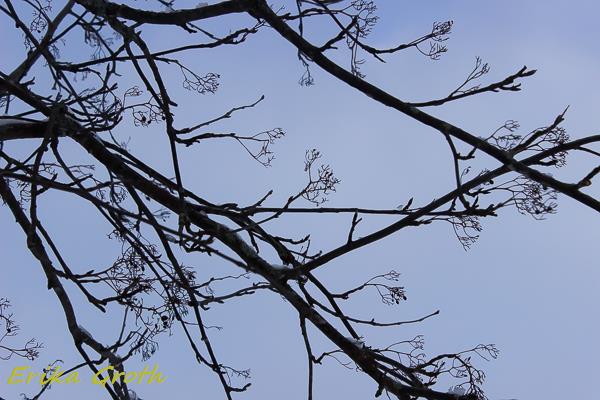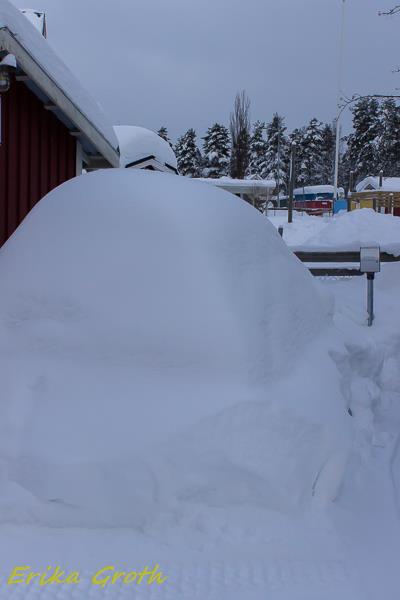 Nu i februari har solen så smått börjat återvända. Jag hade hoppats att väderprognosen om klart väder under helgen skulle infrias så att solen skulle lysa på rönnen, men jag väntade förgäves. Molnen skingrades visserligen till slut, men då var det eftermiddag. Solen hade hunnit sjunka ner bakom vårt hus så rönnen stod ändå i skugga.
Vi hade några rejäla snöstormar i januari. Då hade vi snö över knäna på mig varje gång. Det var till och med jobbigt att öppna ytterdörren efter en av de värsta stormarna då ungefär en halvmeter snö hade tryckts upp mot dörren av vinden. Jag har även fått skotta fram min bil några gånger, vilket jag börjar bli ganska less på. En av mina grannar kan för närvarande inte köra bil av hälsoskäl så hans bil har inte skottats fram den här vintern. Gör man inte det i de här trakterna förvandlas bilen till den snöhög som syns på nedre bilden.
För mig händer det rätt mycket på jobbet just nu. Jag har fått delvis nya arbetsuppgifter, vilket jag är nöjd med. Men det är samtidigt något rörigt på jobbet just nu för vår avdelning har delvis omorganiserats, vår tidigare avdelningschef har gått i pension så vi har precis fått en ny chef och dessutom har kommunchefen på den kommun jag jobbar på precis sagt upp sig. Allt detta mitt i en pandemi, vilket gör allt ännu mer oförutsägbart.
******************************************************
IN ENGLISH:
Now in February the sun has, little by little, started to return again. I had hoped that the the weather forecast promising clear weather during the weekend would be fulfilled so that the sun would shine on the rowan, but I waited in vain. The clouds did finally disperse, but by then it was afternoon. The sun had descended too low behind our house for the sunshine to reach the tree.

We had some heavy snowstoms during January. The snow reached above my knee every time. It was even hard to open the front door of our house after one of the worst snowstorms when the wind had pushed about half a metre of snow against the door. I've had to dig out my car from under the snow a few times, and I'm getting rather tired of it. One of my neighbours cannot drive at the moment for health reasons so he hasn't dug out his car this winter. When you don't do that in this part of the world the car will transform into the snow pile in the lower photo.
For me several things are changing at the same time at work right now. I have partly new job tasks, which I'm quite pleased with. But things are also somewhat confused at the moment because our department has just been partly reorganized, our previous department manager has just retired so we have a new manager and on top of that the municipal manager of the municipality where I work has just resigned. All of this in the middle of a pandemic, which adds to the general confusion.
******************************************************
Fotona är tagna den 7 februari 2021.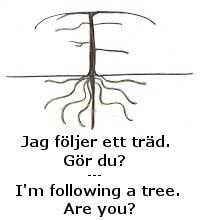 Kolla även in andra trädföljare på The Squirrelbasket (internationellt).