Det är fortfarande vinter men nu när vi börjar närma oss vårvintern är dagarna i alla fall ljusa. Här uppe i och intill Arktis har vi minst 5 olika årstider på svenska (höst, vinter, vårvinter, vår och sommar). Jag säger minst 5 eftersom sommaren i praktiken delas in i 3 olika sommarårstider: försommar, högsommar och sensommar. På samiska språk skiljer man på 8 årstider vilka i princip motsvarar de 7 nordsvenska årstiderna plus "höstvinter". På finska finns det flera ord som verkar motsvara vårvinter (kevättalvi, lopputalvi, varhaiskevät) men jag är osäker på hur man i praktiken brukar dela upp året i norra Finland idag.
Idag snöade det kraftigt. Asparna gör fortfarande inget märkbart. De väntar som de flesta andra på våren. Fast några av asparna verkar ha försvunnit sedan förra månaden.

It is still winter but now that we are approaching the season known up here in northern Sweden as spring-winter at least it is actually daylight outside during the day. Up here in the Arctic and near-Arctic we have at least 5 distinct seasons in Swedish (höst=autumn/fall, vinter=winter, vårvinter=spring-winter, vår=spring and sommar=summer). I say at least because in practice summer is divided into 3 distinct summer seasons: försommar=pre-summer, högsommar=middle of summer and sensommar=late summer. Saami languages have 8 distinct seasons which basically correspond to the 7 North Swedish seasons plus "autumn-winter". In Finnish there are several words that seem to correspond to the Swedish word vårvinter (kevättalvi, lopputalvi, varhaiskevät) but I'm not sure how people in Northern Finland nowadays divide the year into seasons in practice.
Today it is snowing heavily. The aspens are still not doing anything noticeable. Like almost everyone else they are waiting for spring to arrive. But some of the aspens seem to have disappeared since last month.

Fotot är taget den 9 mars 2019.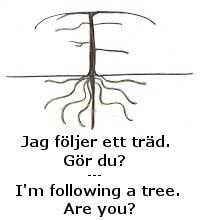 Kolla även in andra trädföljare på The Squirrelbasket (internationellt).