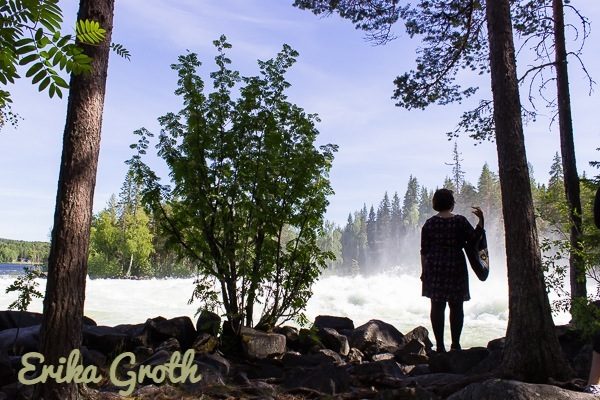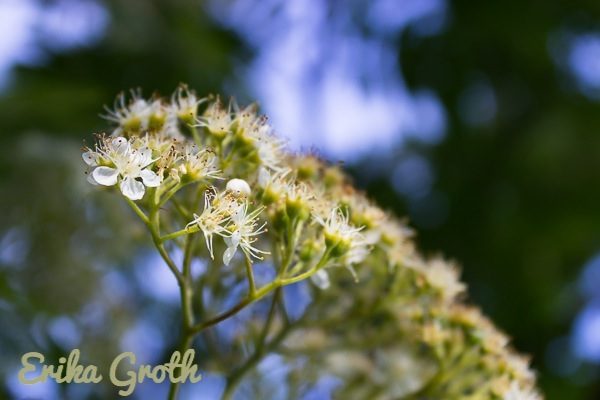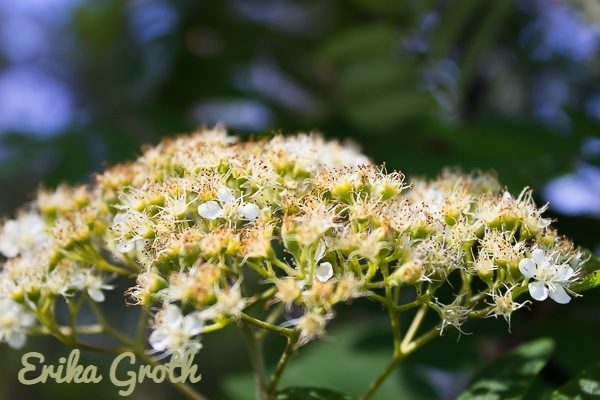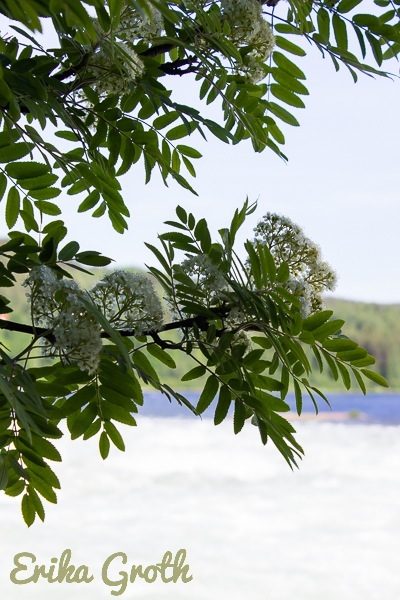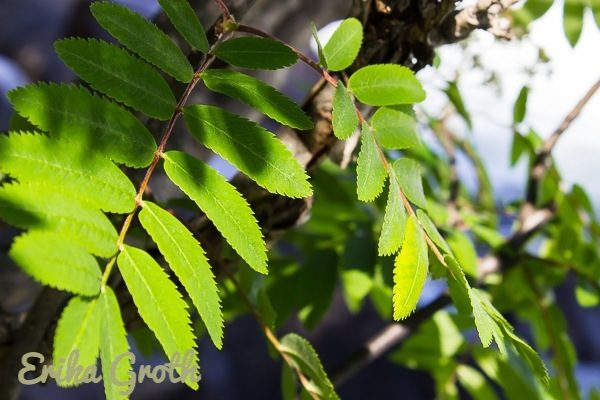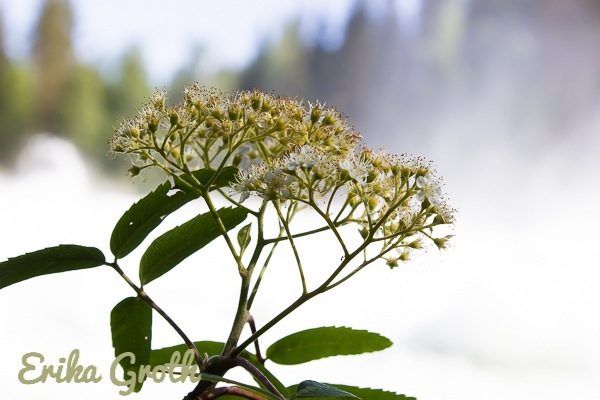 Rönnen har nästan hunnit blomma över. Blommorna har redan börjat knyta sig. Snart kommer rönnbären.
The rowan has almost past the flowering stage. The flowers have already started to transform into berries. Soon there will be rowan berries.
Om man tänker följa stigen längs Storforsen mitt i sommaren bör man ha kläder som torkar snabbt och som tål att bli våta för stora delar av stigen är som att gå genom en dusch.
If you plan to follow the path along the Storforsen rapid in the middle of summer you had better wear clothes that dry fast and don't get destroyed by water because large parts of the path is like walking through a shower.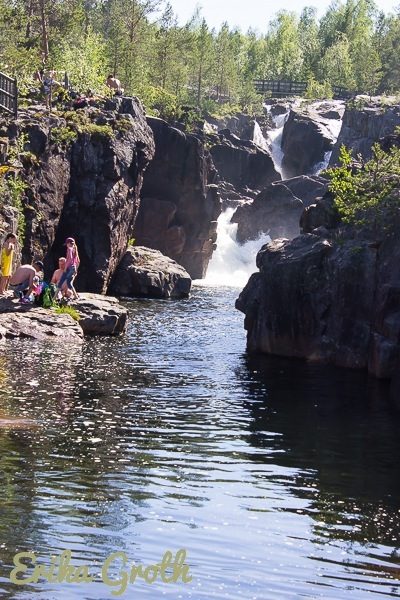 Så här års är det svårt att ta en bild i Storforsenområdet utan att få med ett gäng turister på bilden. Ungefär 150 000 besöker Storforsens naturreservat varje år, vilket är många med tanke på att det bara bor cirka 500 personer i närområdet och bara cirka 8 200 personer i hela Älvsbyns kommun. De flesta som besöker Storforsen grillar. Och badar. Även om man inte kan bada i själva Storforsen med livet i behåll så finns det gott om badmöjligheter i de mindre vattendragen och vattenfallen i Döda fallet bredvid själva Storforsen. Att hoppa ner i vattnet från klipporna i Döda fallet brukar vara populärt hos de som vill visa sig tuffa.
At this time of year it's hard to take a photo at Storforsen natural reserve that doesn't have tourists in it. About 150 000 people a year visit the Storforsen natural reserve, which is a lot given that there are only about 500 people living in the nearby villages and only about 8 200 people living in the entire municipality of Älvsbyn. Most visitors at Storforsen have a barbecue. And go bathing. Even though you can't go swimming in the actual Storforsen rapid without getting killed there are plenty of places to go bathing in the small streams and waterfalls in the Dead Falls area next to the Storforsen rapid. Jumping into the water from the cliffs at the Dead Falls is popular among those who want to show how tough they are.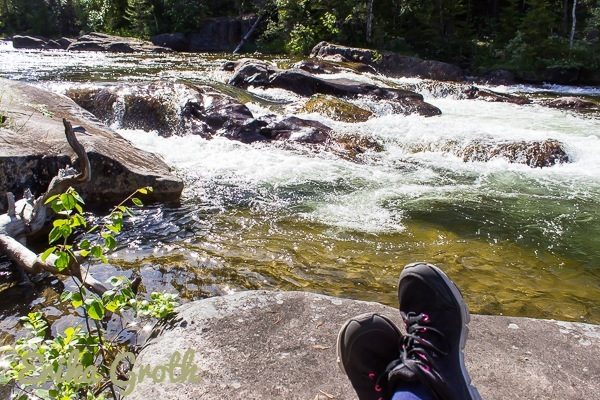 Få saker gör mig lyckligare än att sitta och titta på solsken som blänker i vatten.
Few things make me happier than to sit and watch sunshine glitter in water.
Medeltemperaturen i juni månad var rätt normal enligt SMHI (figuren ovan visar skillnaden mellan medeltemperaturen för juni i år och den normala medeltemperaturen i juni). Några varma dagar, några kalla dagar, några soliga dagar och några regniga dagar. Hittills en sedvanlig svensk sommar alltså.
The mean temperature in June was more or less normal according to the Swedish Meteorological and Hydrological Institute (SMHI) (the figure above shows the difference between the mean temperature for June this year and the normal mean temperature in June). Some warm days, some cold days, some sunny days and some rainy days. In other words, so far a normal Swedish summer.

Fotona är tagna en varm och solig dag 2017-07-01 i Storforsen, Bredsel.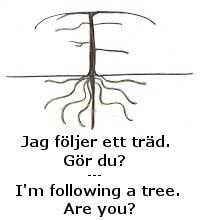 Kolla även in andra trädföljare på The Squirrelbasket (internationellt).