Vi börjar med en liten geografilektion. Storforsen, och rönnen, ligger vid byn Bredsel. Bredsel ligger uppströms längs Piteälven från där jag bor i Älvsbyn i Norrbottens län. Jag har markerat ungefär var rönnen står med ett rött kryss. På satellitbilden kan man tydligt se att älvfåran i nedre delen av Storforsen delvis har flyttats från det ursprungliga läget, vilket skedde när älven användes för flottning av timmer. Det resulterande Döda fallet är numera huvuddelen av det mycket populära naturreservatet. Notera att det är närmare härifrån till den ryska atomutbåtsflottan i Murmansk än det är till Stockholm.

Let us start with a little geography lesson.  Storforsen (The Grand Rapid), and the rowan tree, is located in the small village Bredsel. Bredsel is located upstream along the Pite River from where I live in Älvsbyn in Norrbotten county in Sweden. I've marked the approximate location of the rowan with a red cross. On the satellite photo you can see that the river has been partly moved from it's original location along the lower part of the rapid. This was done on purpose back when the river was used for driving logs. The resulting Dead Falls is now the main part of the very popular natural reserve. Note that it is closer from here to the Russian nuclear submarine fleet in Murmansk than it is to the Swedish capital Stockholm.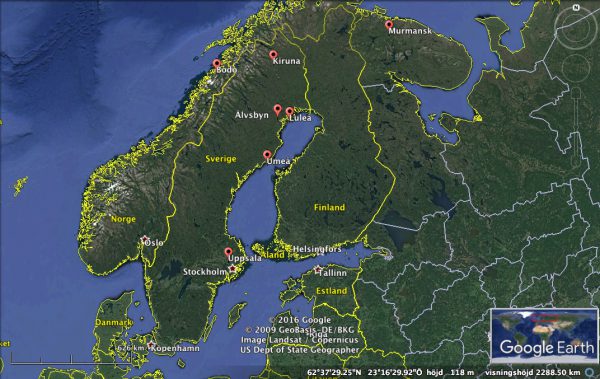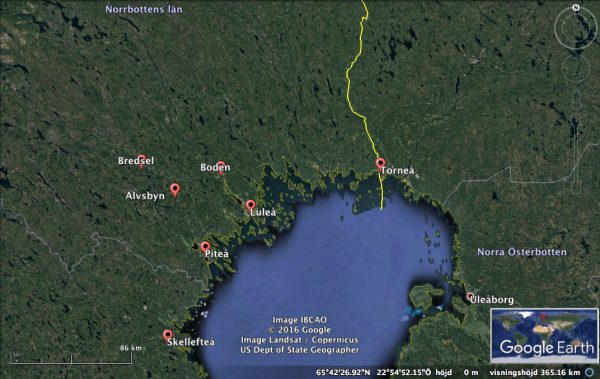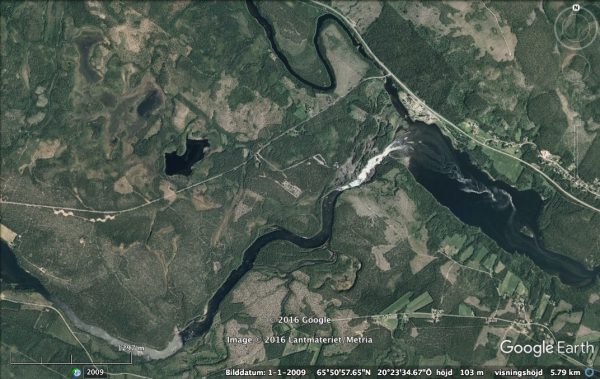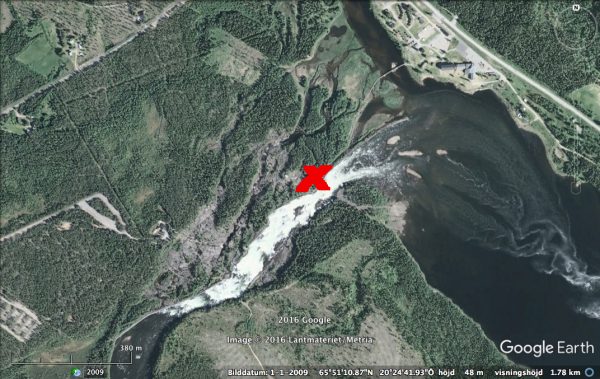 Tydligen är det många som har känt sig romantiska på sistone längs stigen från hotellet upp mot forsen. Tonåringar?
Apparently many have been feeling romantic recently along the path from the hotel to the rapid. Teenagers?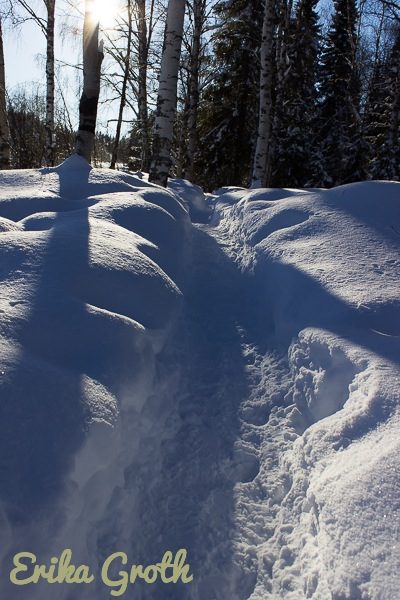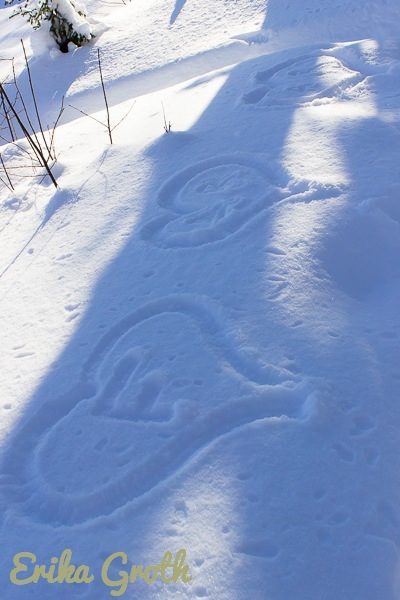 Efter en varm början på året verkar vädergudarna plötsligt ha kommit ihåg att det ska föreställa vinter nu och gett oss några veckor med minusgrader och snö. Rönnen är rätt insnöad för tillfället. Eftersom det fortfarande är vinter händer det inte mycket med trädet.
After a warm start this year the weather gods suddenly seem to have remembered that it is supposed to be winter now and have given us a few weeks with temperatures below 0 °C and snow. The rowan is rather snowed in at the moment. Since it is still winter not much is happening with the tree.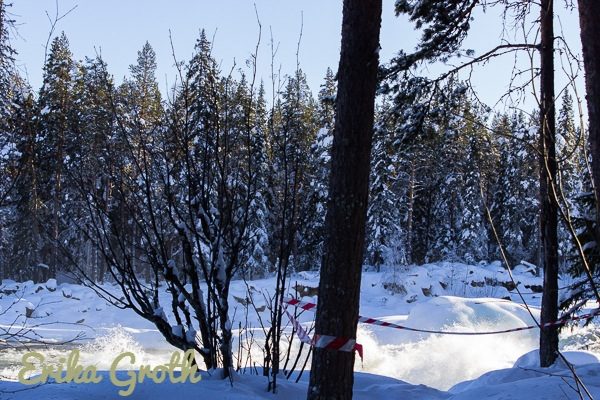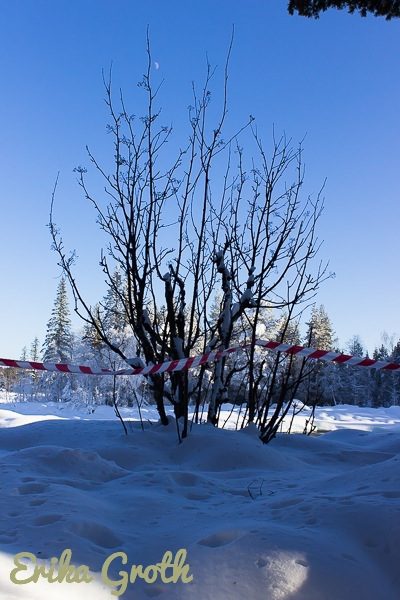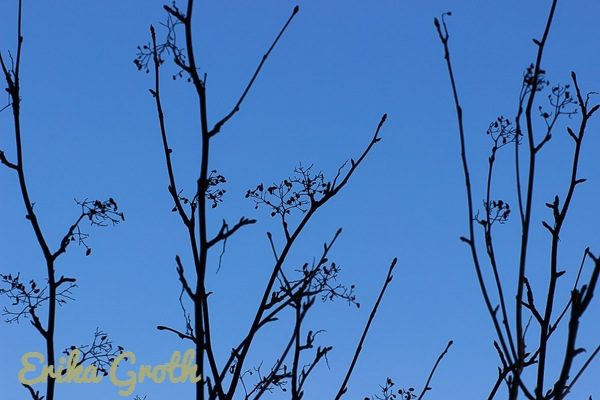 Det var en klar och solig dag så jag fortsatte längs stigen och passade på att ta några vinterbilder av Storforsen.
It was a clear and sunny day so I continued along the path to take some more winter photos of Storforsen.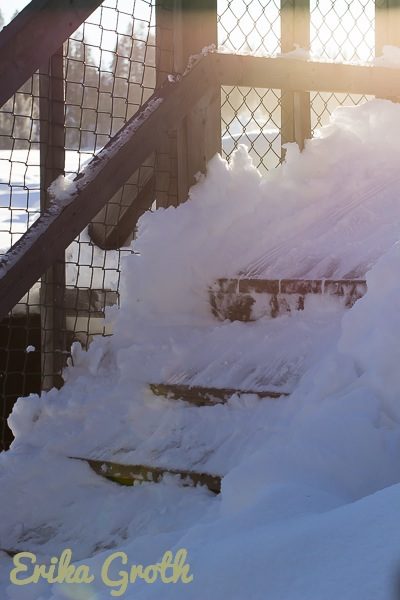 Att gå längs den uppskottade stigen är lätt, men de isiga trapporna upp och ner från spångarna är mer riskfyllda.
To walk along the path that has been cleared of snow is easy, but the icy stairs up and down from the footbridges are more dangerous.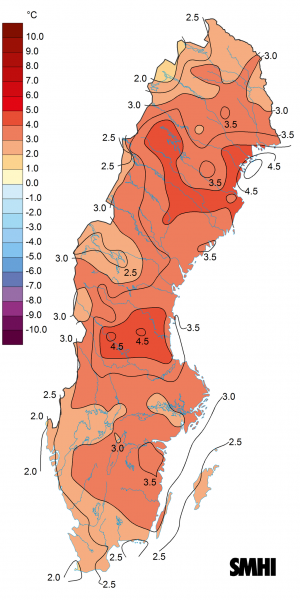 Februari har också känts ovanligt varm och Norrbottens län har i år enligt SMHI slagit tre värmerekord för varmaste uppmätta februaritemperaturen någonsin: Haparanda +8,0 °C (tidigare rekord: +7,8 °C från 1972), Jokkmokk +9,7 °C (tidigare rekord: +8,1 °C från 2004) och Pajala +8,7 °C (tidigare rekord: +8,1 °C från 1976). Men trots det var medeltemperaturen i februari enligt figuren ovan från SMHI bara 4 °C över det normala här i Älvsbytrakten, en mindre avvikelse än för januari.
February also felt unusually warm and according to the Swedish Meteorological and Hydrological Institute (SMHI) the record for the highest temperature ever measured in February was broken in three towns in Norrbotten county this year: Haparanda +8.0 °C (earlier record: +7.8 °C from 1972), Jokkmokk +9.7 °C (earlier record: +8.1 °C from 2004) and Pajala +8.7 °C (earlier record: +8.1 °C from 1976). But despite this the mean temperature during February was only 4 °C above normal in the Älvsbyn region according to the above figure from SMHI, a lesser deviation than for January.
Fotona är tagna 2017-03-05 i Storforsen, Bredsel.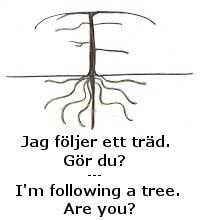 Kolla även in andra trädföljare på The Squirrelbasket (internationellt).