Oktober – och hösten – har anlänt. Nu är det minusgrader och frost på morgnarna och morgonpromenaden till jobbet börjar bli allt mörkare. Sommardäck byts ut mot vinterdäck på bilarna. Vinterjackor, mössor och vantar plockas fram ur garderoben. Och har man tänkt vara ute hela dagen gör man bäst i att ta på sig långkalsonger.
Björklöven är nu gula och håller på att falla av och mängder med svampar har poppat upp ur marken kring björken på kyrkogården. Men längs vägarna blommar fortfarande sommarblommor som blåklockor, vilket jag tycker ser konstigt ut i oktober i Norrbotten. De flesta gravägare följer i alla fall traditionen och har bytt ut sommarblommorna på gravarna mot köldtåliga växter som ljung och silverek. Och grankvistar.
Kyrkan i Älvsbyn är en liten, vit träkyrka. Till skillnad från många andra kyrkor har den inte målade kyrkfönster. Istället har den små, runda fönster i alla riktningar så att kyrkobesökarna kan titta ut på björkarna på kyrkogården utanför. I Älvsbyns kyrka består treenigheten av fadern, sonen och den heliga björken.
October – and autumn – has arrived. Now the morning temperatures drop below freezing, there is frost outside when I wake up and my walk to work in the mornings gets darker and darker. Winter tyres replace summer tyres on the cars. Winter coats, winter hats and mittens are dug out from wardrobes. And if you plan to spend the entire day outdoors you had better put on long underwear.

The birch leaves are now yellow and falling off the branches and plenty of fungi are popping up around the birch in the cemetery. But along the roads summer flowers like bluebells are still in bloom, which looks odd to me in October in Norrbotten. Most grave owners at least follow tradition and has replaced the summer flowers on the graves with cold-hardy plants like heather and silver ragwort. And spruce twigs.
The church in Älvsbyn is a small, white wooden church. Unlike many other churches it doesn't have painted church windows. Instead it has small, round windows in all directions so that the visitors can look out on the birches in the cemetery outside. In the church of Älvsbyn the trinity consists of the father, the son and the holy birch.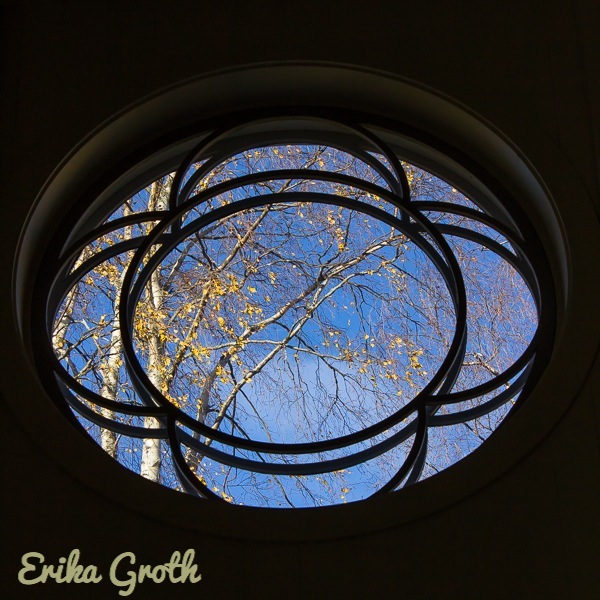 Fotona ovan är tagna 2016-10-01 i Älvsbyn.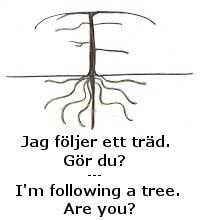 Kolla även in andra trädföljare på The Squirrelbasket (internationellt).